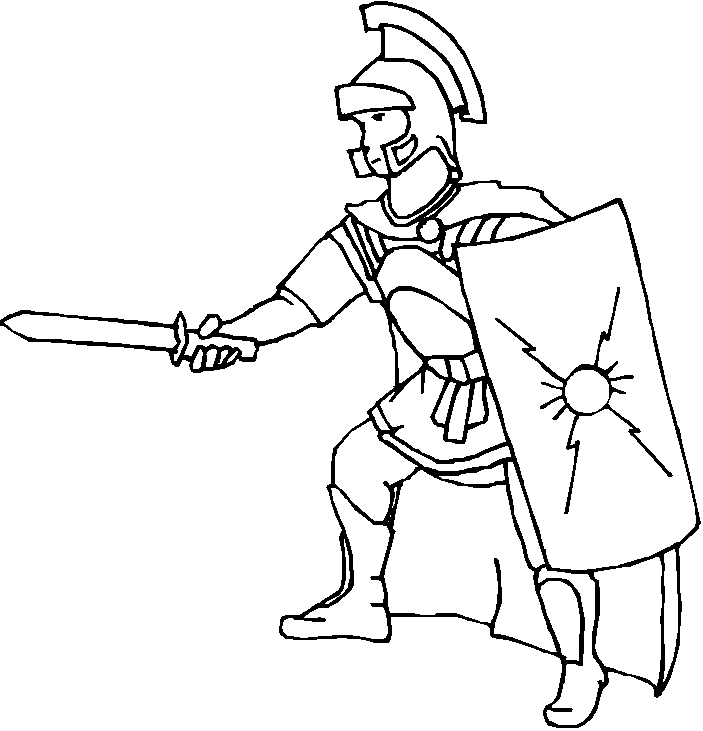 Indeed the world is a war zone, there is always a fierce battle between the forces of good and evil. There are no demilitarised zones, you are either for good or for evil.
Evil always tries to overcome good. The devil employs a myriad of strategies in trying to conquer humanity but 'we are not ignorant of his devices' - 2Cor 2:11(KJV).
In Ephesians 6:11, we are charged to:
Put on the whole armour of God, that you may be able to stand against the wiles of the devil.

- KJV


A soldier going to war without putting on his armour is certainly a corpse in search of death certificate.
God has provided for us armour, by which we will be able to successfully overcome the devil and his antics.
Our first piece of armour is to gird your waist with truth. To gird your waist means to belt up. Imagine a soldier fighting and holding up his trouser with one hand, constantly worrying that his trousers should not drop. The truth frees us from worry and anxiety. The truth is God's word. A christian soldier must know what the word says about his situation per time and stand upon that truth with an unwavering faith.
Next we have to put on the breastplate of righteousness. The breastplate protects the soldier's chest from being stabbed. The chest houses the heart which is a vital organ in the body. The heart symbolises courage or boldness. Now righteousness is being in right standing with God. Having the full right of sonship, no guilty conscience. We are the righteousness of God in Christ Jesus. Jesus through His death, burial and resurrection has put us in right standing with God. We must now maintain that righteousness by living holy and confessing our sins and seeking God's forgiveness whenever we err. This gives us confidence to face the devil who is described in the bible as 'the accuser'. His job is to constantly look for faults with which he can lay charges against us. The Bible tells us to: 'guard your heart with all diligence'.
We also need to shod our feet with the gospel of peace. We need to be prepared to 'walk the talk'. How far would you go in letting others know about the good news? The gospel (or good news) is that finally there is peace between God and man through Jesus Christ. What humanity lost in the garden of Eden, we now have because Jesus died for us. Evangelism, soul winning, call it whatever you want, is a very vital part of our defence at this critical time.
We are also to take on the shield of faith in order to quench the fiery darts of our enemy. A shield gives total body covers against any nasty thing the enemy launches at the soldier. Our enemy's fiery darts are those negative thoughts and ideas he drops in our minds from time to time. Each time those thoughts come, we need to raise up our shield against them. Our faith in the infallibility of God's word is our shield of faith. "If God has said it then that settles it', should be our mentality all the time.
The helmet of salvation is another armour we are required to put on. The helmet protects he skull of the soldier. The skull houses and protects the brain which is the seat of intellect and reasoning. The devil's main strategy is to mess with your thinking through negative ideas and thoughts. Everyday, we are bombarded with these ideas through the media, people around us etc. These ideas create fear and unbelief and gradually erodes one's faith. The devil always tries to challenge what God has said, he did it in the Garden of Eden to Eve, he did it when he tried to tempt Jesus Christ. He always tries to make you doubt who you are or what God has said you are. Your salvation package is very robust, it includes prosperity, deliverance, health, long life, peace of mind, protection, favour with God, and the list goes on. Don't let the devil cheat you out of what is yours, get into the Bible and find out what you need and take it.
Now what type of war is fought with the soldiers just protecting themselves and doing nothing else?
Wars are won by attacking the enemy and taking over their grounds.
All the amour listed above are protective but because we also need to launch offensives against the enemy from time to time, we are charged to 'take up the sword of the Spirit, which is the word of God'.
The word of God in your mouth is as good as the word of God in God's mouth.
We need to confess the word over whatever situation we are facing until we beat the enemy into a retreat. According to the Bible,
' the word is nigh thee, even in thy mouth and in thy heart, that is the word of faith which we preach'
- Rom. 10:8(KJV). Confessing the word of God constantly helps us gain ground against the enemy. Find out what the word says about that situation and make that your confession.
For we do not wrestle against flesh and blood, but against principalities, against powers, against the rulers of the darkness of this age, against spiritual hosts of wickedness in the heavenly places. Therefore take up the whole armor of God, that you may be able to withstand in the evil day, and having done all, to stand. - Eph. 6:12 -13(KJV)
AUNTY MO.